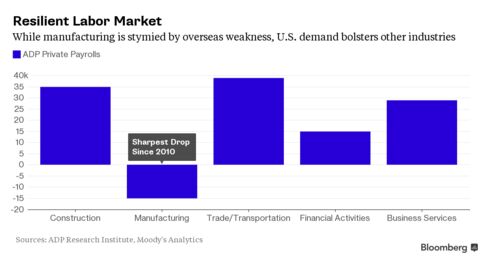 Companies stepped up hiring in September, indicating the U.S. job market is standing firm in the face of weaker global demand, according to a private report based on payrolls. A 200, 000 increase in employment followed a revised 186, 000 rise in the prior month, figures from the ADP Research Institute showed Wednesday. Themedian projection of economists surveyed by Bloomberg called for an advance of 190, 000.
"The U.S. job machine continues to produce jobs at a strong and consistent pace," Mark Zandi, chief economist at Moody's Analytics Inc. in West Chester, Pennsylvania, said in a statement. Moody's produces the figures with ADP. "Despite job losses in the energy and manufacturing industries, the economy is creating close to 200,000 jobs per month. At this pace, full employment is fast approaching."
Estimates in the Bloomberg survey ranged from gains of 120,000 to 215,000 after a previously reported August advance of 190,000.
See full story on bloomberg.com